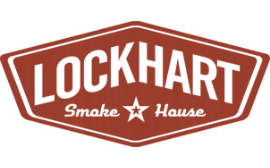 On a short trip to Dallas, a friend and I had very limited time to get our Central-Texas BBQ fix.  With one of us under the weather, and difficulty lining up Uber transportation… we finally stumbled upon Lockhart Smokehouse in the Bishop Arts District around 2:30.  Lockhart had come highly recommended to us, so we were eagerly anticipating our first foray into the world of Texas-smoked meats.  Unfortunately for us… Lockhart had sold out and would not re-open until 5:30.  We were devastated.
We figured we would walk in and ask the bartender for restaurant recommendations.  Before the bartender could rattle off a list of Restaurants, a voice from the back said "I've got you."
Ambiance: 9/10 
As we walked to the back, we were brought to a meat-market style counter and were greeted by a cashier and a pit-master.  The operation ran more like a butcher shop than a restaurant as we were asked what cuts of meat we wanted…the meat was cleaved…wrapped neatly in butcher paper…and placed on a scale.  Needless to say, our eyes were bigger than our stomachs as we stumbled through the menu and ordered nearly half of what Lockhart Smokehouse had to offer (a bill total I am not willing to disclose).
As we made our way back to a table, the overall appearance was clean, comforting, simple, and all things Texas.  The decor pays homage to the Kreuz Market… a famous market that the founder's family once ran (and where their sausage comes from).
The only negative?  To a noob… it was not readily apparent that we needed to walk behind the bar to order.  Not a huge deal (you'd think I could read the giant "Meat Orders!" sign).
Service: 9/10
As a QSR… a 9/10 cannot be understated.  Yes, ordering at a counter and seating yourself is not a lot of opportunity for service points… but the staff was above and beyond friendly.  It was obvious that they were closing up shop and they were still willing to take our order, answer any questions that we had about the menu, and patiently waited for us to finish eating.  Major kudos to the Lockhart Smokehouse team for letting us gorge ourselves on borrowed time.
Menu+Price: 9/10
If you want to talk about variety, Lockhart Smokehouse covers all the bases as far as smoked meats go.  Brisket, Beef Shoulder Clod, Pork Chops, Ribs, Chickens, Turkeys, and Sausages are all available.  As far as sides, all of the BBQ staples are covered.
As far as price goes… Lockhart Smokehouse is reasonable.  The pay-by-the-1/2 pound model makes it an excellent choice for family-style dining, tailgate pick-up, and cross-table sharing.  For a look at the menu, click here: http://www.lockhartsmokehouse.com/menu.html
Food: 20/20 
As I've mentioned… we got a little giddy and ordered half the menu.  Having tried everything…I don't regret that decision.  The brisket was SUPER juicy and tender with a quarter-inch smoke ring.  With a mild rub and a strong hickory smoke, the brisket was so moist, that sauce was not necessary (a feat that is not easy to pull off with brisket).
Speaking of juicy, the ribs were easily the best ribs I've ever eaten.  Considering I'm a saucy-ribs guy… that's a major feat.  Not only were the ribs super moist and tender… but they featured a smoke ring nearly half-an-inch thick!  The rub definitely had a kick to it… but it wasn't overpowering.  Altogether, the flavor profile was superb…and again… I didn't even need the sauce.
Next up was the Kreuz Jalapeño Cheddar Sausage.  Again… another favorite of mine.  This sausage definitely had a sharp cheddar undertone with a jalapeño punch.  The casing had a nice snap, but wasn't too thick or tough… and the meat was moist without being too greasy as some sausages tend to be.
Moving on from the main course, the sides were a pleasant surprise.  The Mac and Cheese was rich, creamy, and super cheesy.  The blue cheese coleslaw was a nice change-of-pace from your standard coleslaw.  The deviled eggs were phenomenal, and the bread pudding was some of the best I've had (it's really closer to monkey bread).  Oh… and you want to know about their BBQ sauce?  It was actually phenomenal.  Not molasses-based like Kansas City styles, and not as vinegery as the Carolinas.  It was a good mix of the two styles with a strong tomato flavor and a sharp kick.  Too bad it wasn't needed, though

Overall Score: 94
So here's the skinny.  I've eaten at a TON of BBQ restaurants, and one of my previous reviews crowned Melvin's the king of BBQ.  I also added that Melvin's is definitely a joint where the "Sauce is the Boss". Well if you prefer un-sauced BBQ, Lockhart Smokehouse is the place for you.  I can tell you with full honesty that Lockhart has the best Brisket, Sausage, and Ribs that I have ever eaten.  Because they do not offer pulled pork, though… I'm not going to say that one is better than the other.
…but I WILL say that Lockhart holds the higher score at a 94/100.  I am already trying to figure out a way to get back to Dallas. Total: 47/50
For more information about Lockhart Smokehouse…visit their website here: http://www.lockhartsmokehouse.com/
Tweet
2 Comments