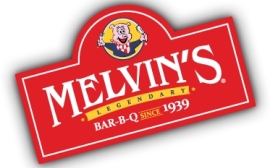 When it comes to BBQ, battle lines are drawn over what sauce you prefer.  Ask someone from Missou-RAH, and they'll tell you it's all about tomato, brown sugar, and molasses.  Travel over to North Carolina, and they'll remove that molasses and add a heavy dose of vinegar.  Swing on Southwest to Texas…and they'll slap you silly for even mentioning the use of sauce.  Go to Memphis…and they can't even agree within their own city lines.  That's why they serve it dry with a side of sauce!
…and then you head to South Carolina…and there is no argument here.  Nowhere else can you find a sauce as unique as the mustard-based sauce that the palmetto state dishes out.
…and it all began with the Bessinger family recipe.
A Brief History…
"Big Joe" Bessinger invented the "Golden Secret" sauce recipe in 1933 when Melvin was only 10 years old.  "Big Joe" would eventually open the Holly Hill Cafe in 1939 where their food back the stuff of legends.  The restaurant would remain open for a few years, but was forced to close it's door after the conclusion of WWII.  "Big Joe" and his son Melvin would go on to start a new venture together called Eat at Joe's.  Melvin continued to work with his dad until he attended the Citadel in 1951.  His education and experience working with the other Restaurants led him to open a new restaurant in 1961.  For 10 years Melvin's Piggy Park Drive-In served Melvin's own style of BBQ with the Golden Secret sauce.  In the 1970's, Melvin started the Bessinger's brand of Restaurant with his son, David.  They would expand the brand into the retail world of sauces, before selling off their restaurant location and sauce recipes to a silent partner in the 1990s.  At the start of the 90's, the Melvin's restaurants debuted and expanded to 8 locations.  By 1992, they decided to reduce that count to the two locations that exist today.
A Family Feud…
A lot of people don't realize it…but Melvin is not the only Bessinger son to carry on the BBQ tradition.  Maurice opened his own chain of restaurants in South Carolina as well.  Maurice's Southern Gold sauce is VERY similar to the the Golden Secret… and you'd imagine why.  Maurice grew up with the same secret recipe that Melvin carried on.  So why is there no mention of Maurice at Melvin's, or Melvin at Maurice's?  Well there is plenty of speculation on that…and it's not my place to say… but let's just say that there's a sense of hostility between the two restaurants.
Today, you can stop at one of a handful of Maurice's BBQs on I-20 as you approach Columbia, SC… you can stop at Bessinger's on the Savannah Highway as you head into Charleston… or you can go to Melvin's at either the Mt. Pleasant or James Island locations.  I've eaten at all three and Melvin's is by far my favorite… but I will eventually post reviews on all three.  Oh yeah… speaking of which…
My review…
Melvin's is by far my favorite BBQ restaurant, and the James Island location is a real treat.
Ambiance: 8/10 
Overall, the exterior is clean and the landscaping is well manicured.  As you walk into the Restaurant, your eyes are immediately drawn to the casual Southern decor and cozy cabin feel.  The restaurant provides booths and large tables in the main dining area, and loose table seating in a sun-room on the side.  The tables are spacious and clean, and the bathrooms are spotless as well.  From the table-top paper towel dispensers to the family photos on the walls, you definitely feel like you're sitting down for lunch with close family and friends.
So why do I rank the ambiance as an 8 out of 10?  Well my only gripe is nothing that Melvin's can control.  Simply put, they run on a QSR (quick service restaurant) model.  When walking into the restaurant, you often face a lengthy line approaching the cashier.  That's the only negative.
Service: 7/10
So I admit, a 7/10 is not an impressive ranking… but when you consider that QSRs are largely self-service…I'd say that's pretty darn good.  The cashiers are friendly, patient, and knowledgeable about the menu.  They are quick in entering your order, and we've never had order accuracy issues.  Once you place your order, you are given an order number and told to choose a booth or table.  Upon seating, it is only a matter of minutes until your order is ready.  Here's the kicker, though.  Even though the cashier is not carrying out your food… they almost always find your table.  We haven't tried the drive-thru yet but based on the number of cars we've seen running though…I'd guess it's pretty efficient as well.
Menu+Price: 10/10
I don't know how the kitchen pulls it off… This is one of the most diverse menus that I've ever seen.  Considering it is a QSR model in a small footprint… it's pretty remarkable that they can offer Pulled Pork, Ribs, Brisket, Fried Chicken, Grilled Chicken, and Cheeseburgers…all while preparing it in a matter of minutes.  To build off of that, they offer 14 sides, 7 salads, a killer onion ring, and a whole kids menu.  For the entire menu, check it out here: http://www.melvinsbbq.com/pdf/ToGoMenu.pdf
As far as price goes… Melvin's is EXTREMELY fair.  You can order platters and baskets for a price comparable to your average quick service restaurant.  To be even more price-efficient, you can even order pork by the pound and purchase your own rolls to-go.
Food: 20/20 
Simply put, everything we've had at Melvin's has been remarkable.  My wife and I always order the "Big Joe" pulled pork sandwich in either the basket or platter form.  The pulled pork always comes out moist, tender, and smoky on a large white sandwich bun.  Tossed with their Golden Secret sauce, the sandwich is good to eat on it's own… or you can add their red sauce or hickory sauce for additional flavor.
If you don't order anything else… do yourself a favor and order the "Golden Onion" onion ring.  This thing is absolutely monstrous.  How would I describe it?  Well let's say that an onion ring mated with a donut, fell into funnel cake batter, took a dip in some beer, and deep fried itself twice.  It's huge and delicious.
If you order a basket… you'll get yourself a sandwich, the onion ring, and an order of steak fries.  I'm not usually huge on fries, but these fries are delicious.  I'd recommend dipping them in some extra sauce myself.
Other items that are good at Melvin's… well everything.  Emeril Lagasse voted their burgers "America's Best Burger" in 1999.  Their ribs are award winning.  Their sauce is legendary.  Just check out their awards here: http://www.melvinsbbq.com/awards.html
Overall Score: 90
So here's the deal.  I've eaten at a TON of BBQ restaurants, and Melvin's is probably the best BBQ I've had.  I will warn you, that this is definitely a joint where the "Sauce is the Boss".  If you are a person that prefers dry BBQ… you may need to ask that they leave the sauce on the side.  However, the meat is still moist enough, I doubt you'll be disappointed.  Melvin's have been doing their thing for a long time…and you can tell as soon as you take your first bite.  There's a reason why I took my groomsmen here for lunch before my wedding day…and it did not disappoint. Total: 45/50
For more information about Melvin's…or to order sauce online… visit their website here: http://www.melvinsbbq.com/
Tweet